From the onset of new contract talks between Ford and the United Auto Workers (UAW), the union has remained adamant that it wants to organize the automaker's future EV and EV battery plants. At the same time, the UAW has criticized funds Ford has received from the government to help construct those facilities, as well as its decision to pause construction at BlueOval Battery Park Michigan. The union's desire to include these plants in its next master contract was also one of the major sticking points in negotiations, even after General Motors and Stellantis agreed to do precisely that. Ford has since delayed – or potentially even canceled – $12 billion in planned EV investments that affect some of these under-construction plants after reaching a tentative agreement with the UAW that includes big product and plant investments, but the union hasn't forgotten about this particular topic, according to Bloomberg.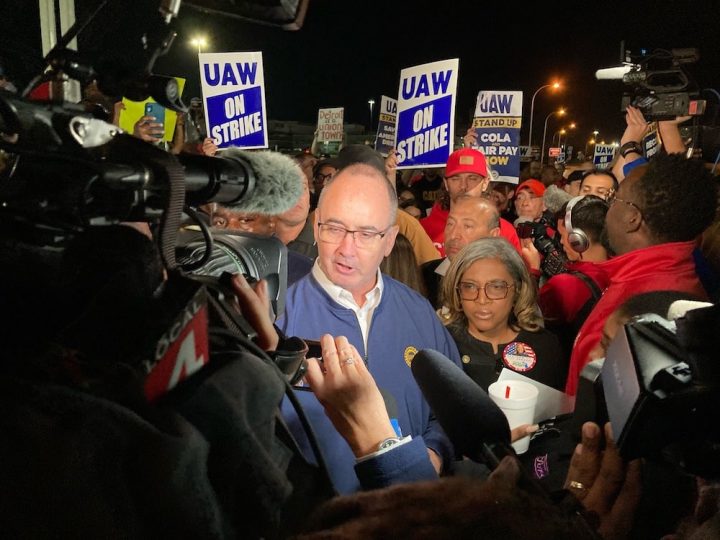 "Stellantis and GM agreeing to these terms, in effect buys them labor peace as we move forward," UAW President Shawn Fain said regarding those companies including future EV plants in their new master contracts. As for Ford, he added, "that could get ugly."
To date, Ford has made it clear that it intends to let the employees at these future EV plants decide whether or not they want to organize, noting that it just began hiring workers for those under-construction facilities and hasn't even filled out its staff yet. It's also notable given the fact that since those plants are owned and operated by joint ventures, they're considered separate entities and do not fall under the terms of a master contract.
To get around that, GM and Stellantis have agreed that all current employees will be "leased" to their respective joint ventures while remaining employed by the automakers, which will ensure that they won't take any sort of pay cut if they transition to an EV plant. Additionally, a new "card check" process will be implemented to make it easier and quicker for workers at those plants to unionize, if they choose to do so. However, Fain noted that new joint venture EV plant hires will only get 75 percent of the pay rates established in the new master agreement, which is something he's determined to change when the new contract expires in 2028.
We'll have more on this very soon, so be sure and subscribe to Ford Authority for the latest Ford-UAW news, UAW news, and 24/7 Ford news coverage.