Over the years, we've seen more than our fair share of cool Blue Oval-involved drag races. That includes a 1998 Ford Falcon V8 Supercar taking on a 2003 Nismo Super GT 350Z, a Ford Mustang Shelby GT500 versus the all-new Dodge Challenger Black Ghost, a modified classic Mustang taking on an equally modified Falcon, and a twin-turbocharged Ford F-150 pickup against an LS-swapped 2001 Audi S4. Now, in its latest episode of the long-running This vs That series, Hoonigan is back at it again with another intriguing matchup between a twin-turbocharged Ford F-150 and a Subaru WRX STI making serious power.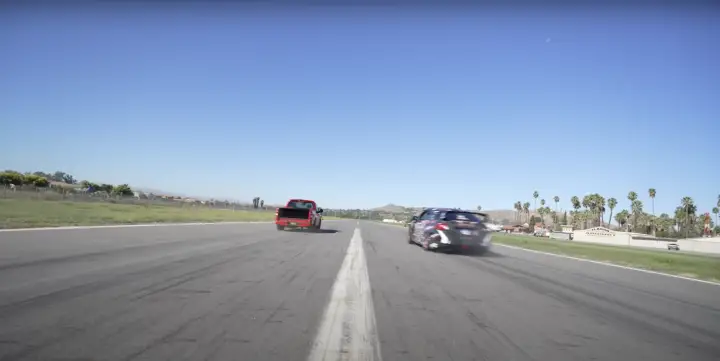 This is no ordinary Subaru WRX STI, as it's been built to the literal hilt by Kaiju Motorsports, with much of that work taking place under the hood. There, the four-door rally-inspired burner utilizes a brand new long block built to handle upwards of 1,150 horsepower, which it can crank out easily thanks to a massive Garrett turbocharger, which flows to all four wheels via the standard STI gearbox that's been built to handle that extra output.
In the other lane, we have a regular cab, short bed Ford F-150 that's actually running its stock bottom-end 5.0L V8 Coyote, albeit one with some serious bolt-ons that include a pair of turbochargers that enable it to make 900 horsepower at the wheels. While the pickup has some big disadvantages in terms of overall weight and lack of traction, this F-150 does wear a set of large drag radials out back, which should help it hook.
Incredibly, even though it gets the jump in round one, the WRX quickly loses it as the Ford F-150 rockets by, claiming the early win. The Subie driver had some issues with the car bogging down while also missing a shift or two, so the pair decide to run it back in the same head-to-head race for round two, and this time around, the WRX takes home an easy win. Thus, it's all down to round three, in which the F-150 gets the hit – and the win – proving that sometimes, things like power, weight, and traction don't matter as much as driving skills.
We'll have more cool videos like this to share soon, so be sure and subscribe to Ford Authority for the latest Ford F-Series news, Ford F-150 news, and non-stop Ford news coverage.