The 2020 Ford F-MAX is a heavy-duty cabover (cab over engine) flat-nosed truck used for commercial and industrial applications. Produced by Ford Otosan, a subdivision of the Ford Motor Company in Turkey, the F-MAX was introduced in 2018 as a replacement to the long-running Ford Cargo.
Sold as a "one size fits all" Tractor configuration, the F-MAX comes with a 4×2 axle and powered by the Ford 13.0L Ecotorq (12.7L) diesel straight six engine capable of delivering close to 500 horsepower and 1,843 lb-ft of torque. This engine is mated to a 12-speed ZF Traxon automatic gearbox.
Changes, Updates, New Features
Since the F-MAX was introduced in 2018, it doesn't undergo many changes for the 2020 model year. Except for a reshuffling of the available trim levels and configurations, the F-MAX Tractor carries over unchanged in 2020.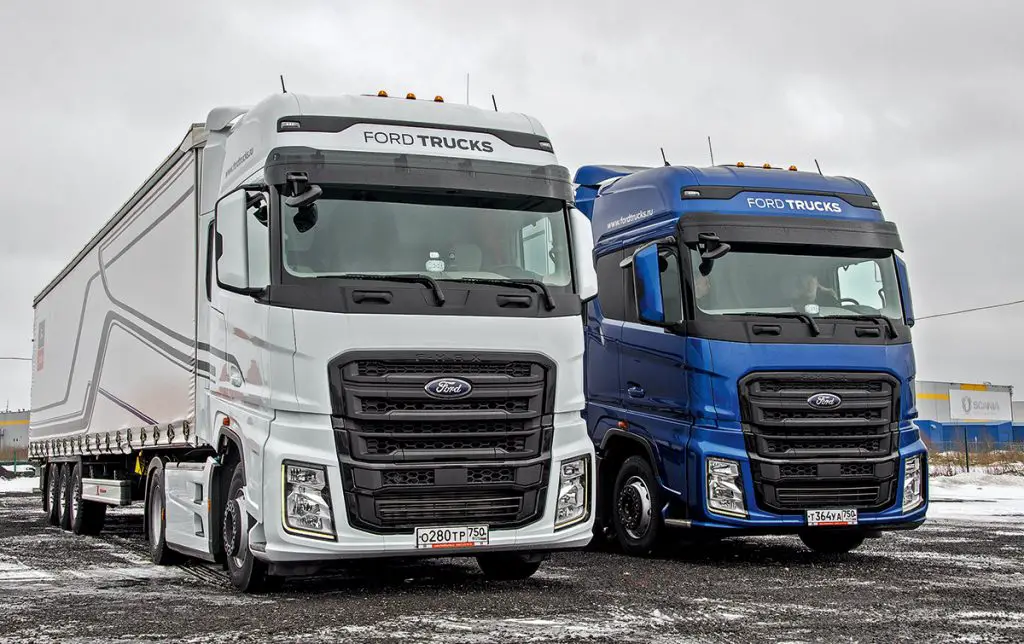 Exterior
Prominent vertical LED headlights positioned low on the truck's fascia
Large "flat-nose" type windshield for optimal visibility
Aerodynamic side profile for maximum efficiency
Interior
Driver-oriented "cockpit-type" dashboard layout
Ergonomic seats that provide superior lumbar support for long drives
Integrated rest and storage area with bed
Body Styles
There is only one body style for the 2020 Ford F-MAX called the Tractor series. This body style is designed to accommodate large trailers, with the front section comprised of only the engine, transmission and cabin. The entire front fascia is flat in order to better maneuver the vehicle in tight urban areas.
The F-MAX's cabin – or as Ford calls it: the 2.5m Mega Cab – is high and narrow, allowing its driving to stand and walk around in it. The cabin also incorporates a small resting area behind the driver and passenger seats. This is designed to allow its driver to nap during long-range trips. The roof also incorporates a large storage area.
The 2020 Ford F-MAX comes in only one configuration, with a unique wheelbase and drivetrain combination.
Model Line
Powertrain
The 2020 Ford F-MAX currently offers one powertrain option. Here's what to expect from the F-MAX lineup.
| Engine | Aspiration | Horsepower @ RPM | Torque (lb-ft) @ RPM | Transmission |
| --- | --- | --- | --- | --- |
| 12.7L EcoTorq Diesel | Turbo | 493 @ 1,800 rpm | 1,475 @ 1,000 rpm | Twelve-speed automatic |
Models
The 2020 Ford F-MAX model lineup is as follows:
| Drive Wheels | Trim Level | Engine |
| --- | --- | --- |
| RWD | F-MAX Tractor | 12.7L EcoTorq Turbodiesel Straight Six |
Platform
All variations of the Ford F-MAX ride on the same wheelbase and come with Ford's 2.5m Mega Cab.
Production
The Ford F-MAX is assembled at the Ford Otosan assembly plant in Turkey. The vehicle has been in production since 2018.
Availability
All variants of the Ford F-Max are available for order.
Beyond 2020
The 2020 Ford F-MAX is the smallest truck in a family of heavy duty Ford tractors, road vans and construction trucks. There are currently no plans at Ford to change the current F-MAX model.
Discussion
Discuss the Ford F-MAX in our Ford Forum.
News
Follow our coverage of Ford F-MAX news.
Specifications
| Model | Ford F-MAX |
| --- | --- |
| Body style | Cabover Tractor |
| Driveline | Longitudinal, rear-wheel-drive |
| Construction | Body on frame |
| Manufacturing location | Gölcük/Kocaeli, Turkey |
Engines And Transmissions
| Engine | Aspiration | Horsepower @ RPM | Torque (lb-ft) @ RPM | Transmission |
| --- | --- | --- | --- | --- |
| 12.7L EcoTorq Diesel | Turbo | 493 @ 1,800 rpm | 1,475 @ 1,000 rpm | Twelve-speed automatic |
Tire And Final Drive Ratio
| Fifth Wheel Height (mm) | Final Drive Ratio | Tire | Fifth Wheel Height (loaded) | Fifth Wheel Height (unloaded) |
| --- | --- | --- | --- | --- |
| 1,050 mm | 2.47 or 2.64 | 315/60 R22.5 | 1,069 mm | 1,093 mm |
| 1,100 mm | 2.47 or 2.64 | 315/60 R22.5 | 1,119 mm | 1,147 mm |
| 1,150 mm | 2.64 | 295/80 R22.5 | 1,163 mm | 1,190 mm |
| 1,200 mm | 2.64 | 295/80 R22.5 | 1,198 mm | 1,225 mm |
| 1,200 mm | 2.64 | 315/80 R22.5 | 1,216 mm | 1,241 mm |
| 1,250 mm | 2.64 | 295/80 R22.5 | 1,263 mm | 1,290 mm |
Brakes
| Locations | Type | Rotor Size and Type |
| --- | --- | --- |
| Front | Disc with ABS with hydaulic brake assist | 430 mm x 45 mm (front and rear) |
| Rear | Disc with ABS with hydaulic brake assist | 430 mm x 45 mm (front and rear) |
Dimensions
| Exterior Dimensions | Value (inches) |
| --- | --- |
| Wheelbase | 142 |
| Overall Length | 234 |
| Overall Height | 154 |
| Overall Cab Length | 113 |
| Width | 100 |
| Ground Clearance (Front) | 11 |
| Ground Clearance (Rear) | 9.3 |
| Front Overhang | 59 |
| Rear Overhang | 34 |
Capacities
| Value | Axle 1 (lb) | Axle 2 (lb) | Total (lb) |
| --- | --- | --- | --- |
| Technically Permissble Weights | 16,534 | 25,353 | 41,887 |
| Curb Weight | 12,292 | 5,066 | 17,359 |
| Max Payload | 4,241 | 20,286 | 23,205 |
| Gross Trailer Mass | | | 97,003 |
Photos