The 2020 Ford EcoSport is a sub-compact crossover utility vehicle (CUV) that sits underneath the Ford Escape within the Ford lineup. Capable of seating up to five passengers, the Ford EcoSport is the smallest and most affordable utility vehicle sold by the Ford Motor Company. Its main goal is to be cheap, fuel efficient and easy to maneuver in dense urban areas.
While the EcoSport has been on sale in other markets since 2003, the second-generation model first appeared in the U.S. and Canadian markets during the 2018 model year.
Changes, Updates, New Features
Since the Ford EcoSport was recently added to the Ford lineup, it sees no significant changes for the 2020 model year. However, there are talks that the vehicle might undergo a mid-cycle refresh in 2021. Rumors stipulate that the EcoSport could even be replaced all together by something based on the Europe-only Ford Puma, or the Ford C2 platform.
Exterior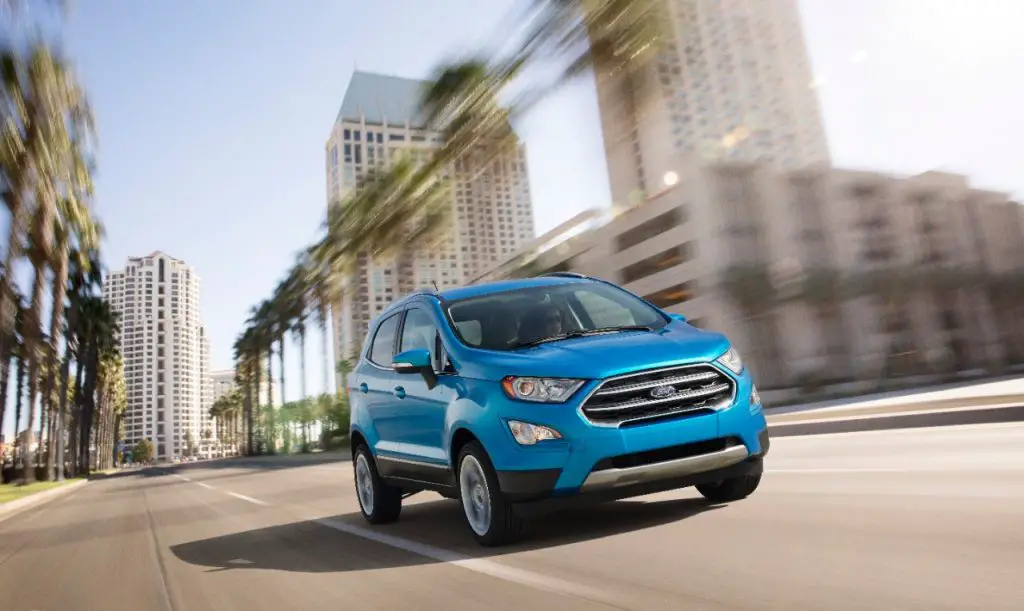 The EcoSport's design evokes that of a lifted subcompact car rather than that of an actual truck, with sub-compact proportions and short front and rear overhangs.
Horizontally opening rear door leads to a lower than average loading floor and easier access to the vehicle's trunk.
SES trim adds unique blacked out body accents, headlights and model-specific 17-inch wheels.
Interior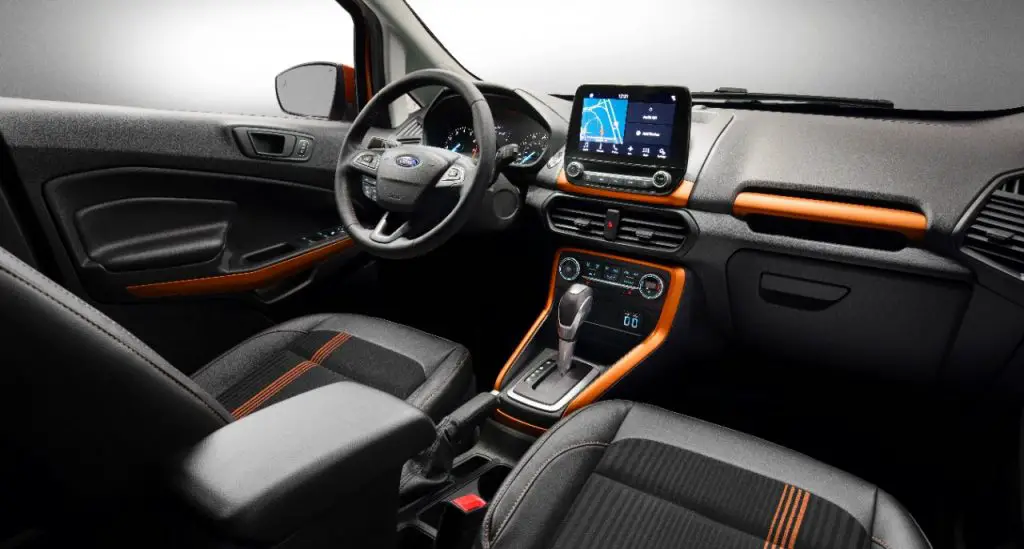 Like its exterior, the EcoSport's interior mimics that of a small car, rather than a truck, with excellent outward visibility thanks to a lifted ride height.
Contrasting color combinations help create an active, youthful look.
Available 8-inch screen incorporating Ford's Sync 3 infotainment system.
Available 

B&O Sound System by Bang and Olufsen.
Body Styles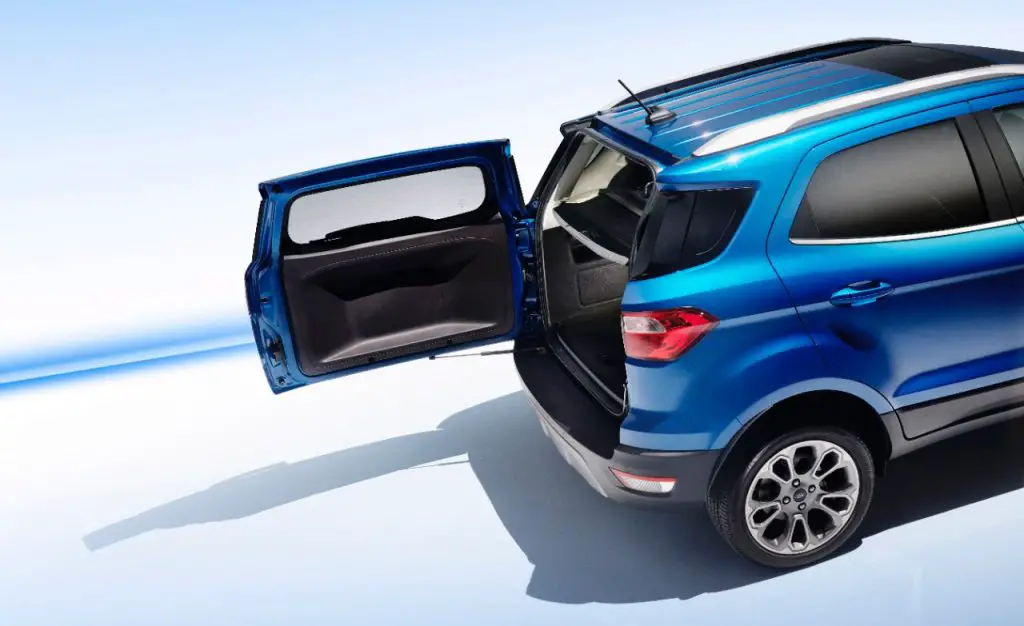 The Ford EcoSport is a sub-compact crossover utility vehicle that comes in only one body style no matter which trim level is selected. Total number of doors is five including the horizontally opening hatch. However, unique styling cues are applied to the Titanium and SES trim levels to distinguish them from the rest of the EcoSport lineup.
Model Line
EcoSport S
EcoSport SE
EcoSport Titanium
EcoSport SES
Powertrain
The 2020 Ford EcoSport has a total of two distinct powertrains. Let's take a closer look at the Escape's powertrain options.
Engines and Transmissions
| Engine | Aspiration | Horsepower @ RPM | Torque (lb-ft) @ RPM | Transmission |
| --- | --- | --- | --- | --- |
| 1.0L EcoBoost I3 | Turbo | 123 @ 6,000 rpm | 125 @ 6,000 rpm | Six-speed automatic |
| 2.0L Ti-VCT I4 | Atmospheric | 166 @ 6,500 rpm | 149 @ 4,500 rpm | Six-speed automatic |
Models
The Ford EcoSport model lineup remains unchanged for the 2020 model year. The model lineup is as follows:
| Drive Wheels | Trim Level | Engine |
| --- | --- | --- |
| FWD | S | 1.0L EcoBoost I3 |
| AWD | S | 2.0L Ti-VCT I4 |
| FWD | SE | 1.0L EcoBoost I3 |
| AWD | SE | 2.0L Ti-VCT I4 |
| FWD | Titanium | 1.0L EcoBoost I3 |
| AWD | Titanium | 2.0L Ti-VCT I4 |
| AWD | SES | 2.0L Ti-VCT I4 |
Platform
All variations of the Ford EcoSport ride on the Ford B3 platform shared with the following vehicles:
Production
Because the Ford EcoSport is sold worldwide, it is assembled in a variety of global Ford manufacturing plants including Romania, China, Brazil, India, Thailand, Russia and Vietnam.
Availability
All variants of the 2020 Ford EcoSport are available for order.
Beyond 2020
While the Ford EcoSport crosses the 2020 model year unchanged, it will undoubtedly undergo a mid-cycle refresh sometime between the third and fourth quarter of 2020.
Discussion
Discuss the Ford EcoSport in our Ford forum.
News
Follow our coverage of Ford EcoSport news.
Specifications
Overview
| Model | Ford EcoSport |
| --- | --- |
| Body style | Sub-compact, two-row CUV |
| Driveline | Transverse, front-wheel-drive or all-wheel-drive |
| Construction | Unitized welded steel body |
| Manufacturing location | Romania, China, Brazil, India, Thailand, Russia and Vietnam |
| Key competitors | Honda HRV, Nissan Rogue Sport, Mazda CX-3, Toyota C-HR, Hyundai Venue, Chevrolet Trax, Jeep Renegade, Mitsubishi Outlander Sport |
Engines and Transmissions
| Engine | Aspiration | Horsepower @ RPM | Torque (lb-ft) @ RPM | Transmission |
| --- | --- | --- | --- | --- |
| 1.0L EcoBoost I3 | Turbo | 123 @ 6,000 rpm | 125 @ 6,000 rpm | Six-speed automatic |
| 2.0L Ti-VCT I4 | Atmospheric | 166 @ 6,500 rpm | 149 @ 4,500 rpm | Six-speed automatic |
Gear Ratios
| Gear | 1.0L EcoBoost I3 | 2.0L Ti-VCT I4 |
| --- | --- | --- |
| First | 4.58:1 | 4.58:1 |
| Second | 2.96:1 | 2.96:1 |
| Third | 1.9:1 | 1.9:1 |
| Fourth | 1.44:1 | 1.44:1 |
| Fifth | 1.00:1 | 1.00:1 |
| Sixth | 0.75:1 | 0.75:1 |
| Reverse | 2.94:1 | 2.94:1 |
Suspension
Position
Type
Front
Independent MacPherson strut-type with stabilizer bar, twin-tube hydraulic gas-pressurized shocks
Rear (FWD)
Semi-independent, progressive-rate springs, mono-tube hydraulic gas-pressurized shocks
Rear (AWD)
Fully independent multi-link with stabilizer bar, progressive rate springs,
mono-tube hydraulic gas-pressurized shocks
Wheels and Tires
| Trim Level | Standard Wheel Size & Type | Standard Tire Size & Type | Optional Wheel Size & Type | Optional Tire Size & Type |
| --- | --- | --- | --- | --- |
| S | 16-inch Magnetic Low-Gloss-Painted machine face aluminum | 205/60R16 all-season | N/A | N/A |
| SE | 16-inch Shadow Silver-painted aluminum | 205/60R16 all-season | N/A | N/A |
| Titanium | 17-inch premium dark stainless-painted machined aluminum | 205/50R17 all-season | N/A | N/A |
| SES | 17-inch painted machined aluminum | 205/50R17 all-season | N/A | N/A |
Brakes
| Location | Type | Rotor Size and Type |
| --- | --- | --- |
| Front | Two piston brakes | Discs with ABS |
| Rear | Solid brakes | Discs with ABS |
Dimensions
| Exterior Dimensions | Value (in inches) |
| --- | --- |
| Wheelbase | 99.2 |
| Length | 161.3 |
| Height | 64.8 |
| Width (including mirrors) | 81 |
| Front track | 59.8 |
| Rear track | 59.7 |
| Interior Dimensions | Value (in inches) |
| --- | --- |
| Front head room | 39.6 |
| Rear head room | 37.5 |
| Front leg room | 42.9 |
| Rear leg room | 36.7 |
| Seating capacity | 5 |
Capacities
| Capacity | Value |
| --- | --- |
| Base curb weight (1.0 EcoBoost I3 - FWD) | 3,021 lb |
| Base curb weight (2.0L Ti-VCT I4 - AWD | 3,300 lb |
| Cargo volume (behind second row) | 20.9 cu-ft |
| Cargo volume (behind first row) | 50 cu-ft |
| Towing capacity | 1,400 lb |
Pricing
| Trim Level | Engine | Drive Wheels | Starting MSRP |
| --- | --- | --- | --- |
| S | 1.0L EcoBoost I3 | FWD | $17,985 |
| S | 2.0L Ti-VCT I4 | AWD | $19,580 |
| SE | 1.0L EcoBoost I3 | FWD | $21,140 |
| SE | 2.0L Ti-VCT I4 | AWD | $22,640 |
| Titanium | 1.0L EcoBoost I3 | FWD | $24,150 |
| SES | 2.0L Ti-VCT I4 | AWD | $25,265 |
| Titanium | 2.0L Ti-VCT I4 | AWD | $25,600 |
Photos