The 2020 Ford Explorer received a complete overhaul, consisting of a redesign and re-engineering, representing the first model year of the sixth-generation Explorer.
Changes, Updates, New Features
The 2020 Ford Explorer is all-new from the ground up. Here's what we expect from Ford's full-size three-row SUV.
Exterior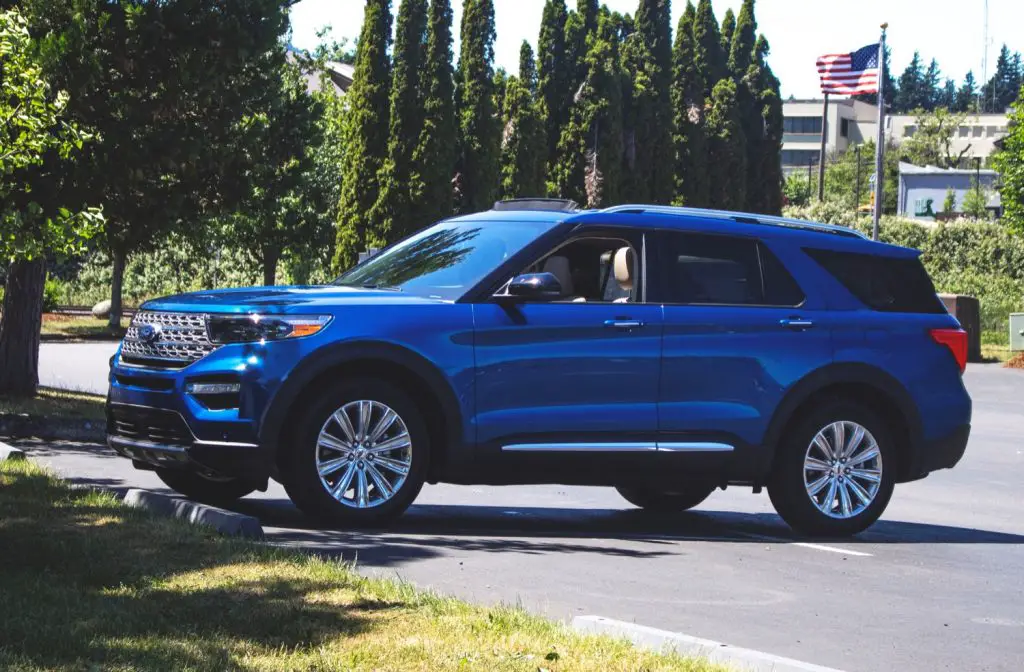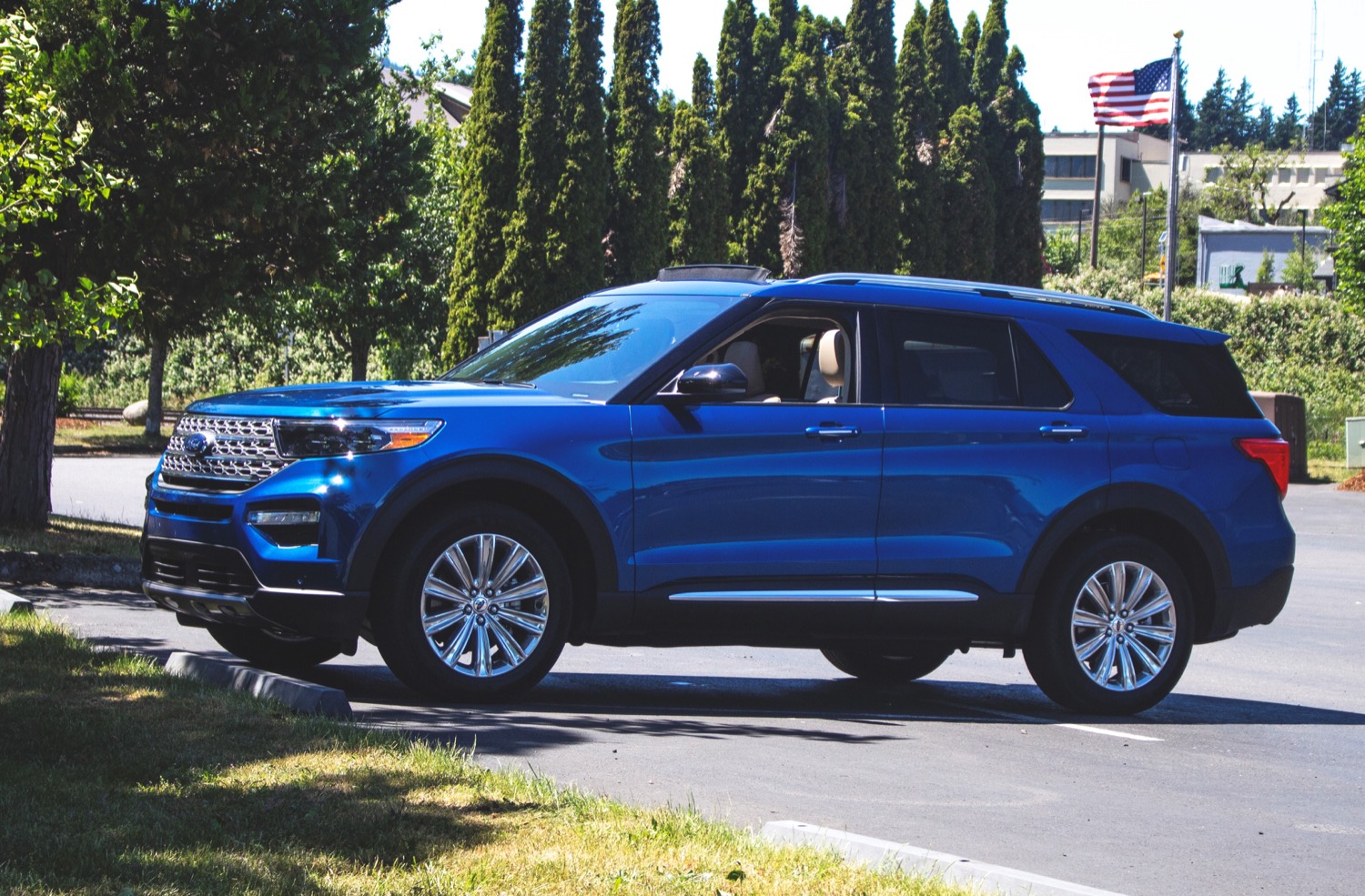 All-new exterior design that is similar to, but still substantially different from the last-generation Ford Explorer
Rather than switching to aluminum body panels like Ford's body-on-frame models (F-Series, Expedition, Navigator), the 2020 Explorer continues to use steel for its panels
Explorer ST gets unique front and rear fascias, blacked out wheels, red brake calipers and unique quad tip exhaust
Explorer Platinum gets unique chromed out exterior cues, such as grille, wheels and rocker panels.
Interior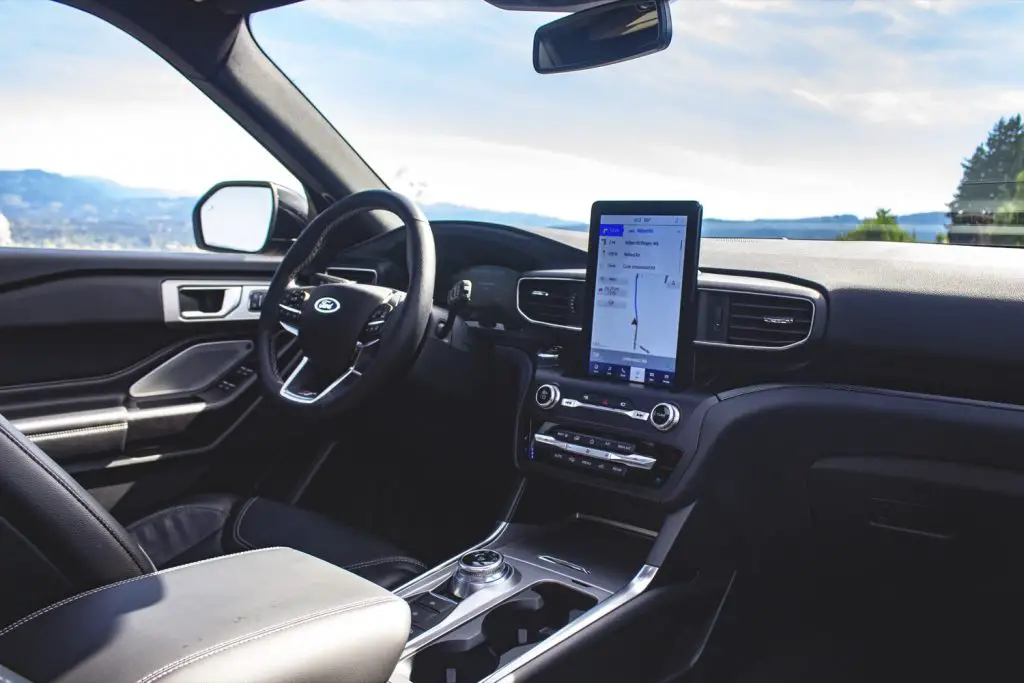 All-new interior, delivering a more space-efficient design, greater comfort, and more space for passengers and cargo
All-new in-vehicle technology, including an updated version of the Ford Sync 3 infotainment system, 4G LTE with Wi-Fi.
Explorer ST and Platinum come with a new 10.1-inch portrait style screen, while Explorer XLT and Limited come with a standard 8-inch screen.
All trim levels come with a fully digital gauge cluster
B&O by Bang & Olufson sound system offered as standard equipment on Explorer Limited, ST and Platinum
Seven-passenger seating with second row comprised of dual captain chairs
Body Styles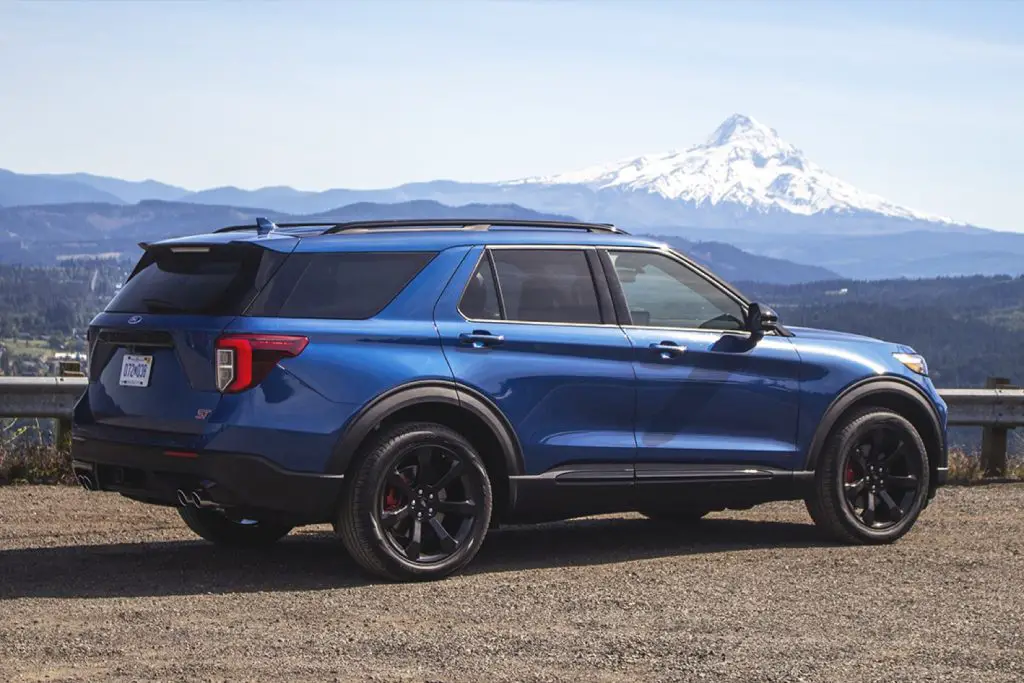 The 2020 Ford Explorer continues to be offered as a three-row full-size crossover SUV. Total number of doors is five (including the hatch). The 2020 Ford Explorer only comes in one body style no matter which trim level is selected.
However, unique styling cues are applied to Explorer ST and Explorer Platinum to distinguish them from the rest of the lineup.
Model line
Explorer XLT
Explorer Limited
Explorer ST
Explorer Platinum
Powertrain
The 2020 Ford Explorer had a total of four distinct powertrains, with one of them being carried over from the last-generation model. Let's take a closer look at the Explorer's powertrain options.
Engines and Transmissions
| Engine | Aspiration | Horsepower | Torque | Transmission |
| --- | --- | --- | --- | --- |
| 2.3L EcoBoost I4 | Turbo | 300 | 310 | Ten-speed automatic |
| 3.3L Hybrid V6 | Atmospheric | 318 | N/A | Ten-speed automatic |
| 3.0L EcoBoost V6 | Twin-turbo | 365 | 380 | Ten-speed automatic |
| 3.0L EcoBoost V6 | Twin-turbo | 400 | 415 | Ten-speed automatic |
Models
The 2020 Ford Explorer sees several changes to the model lineup. The new model lineup is as follows:
| Drive Wheels | Trim Levels | Engine |
| --- | --- | --- |
| RWD | XLT | 2.3L EcoBoost I4 |
| AWD | XLT | 2.3L EcoBoost I4 |
| RWD | Limited | 2.3L EcoBoost I4 |
| AWD | Limited | 2.3L EcoBoost I4 |
| RWD | Limited | 3.3L Hybrid V6 |
| AWD | Limited | 3.3L Hybrid V6 |
| AWD | ST | 3.0L EcoBoost V6 |
| AWD | Platinum | 3.0L EcoBoost V6 |
Platform
All variations of the sixth-generation Ford Explorer ride on the Ford CD6 platform shared with the following vehicles:
Production
The 2020 Explorer is assembled at the Ford Chicago Assembly Plant in Chicago, Illinois, USA. A plant in China will assemble the vehicle for the Chinese domestic market.
Availability
The 2020 Ford Explorer follows the regular Ford model year rollover sequence. Vehicles have arrived in U.S. dealerships as we write this.
Beyond 2020
We expect the current, sixth-generation Ford Explorer to remain into production for at least the next four-years. There are no plans to update the vehicle since this is an all-new Ford Explorer launched for the 2020 model year.
Discussion
Discuss the 2020 Ford Explorer in our Ford forum.
News
Follow our coverage of Ford Explorer news.
Specifications
Overview
| Model | 2020 Ford Explorer |
| --- | --- |
| Body style | Full-size three-row SUV |
| Driveline | Longitudinal, rear-wheel-drive or all-wheel-drive |
| Construction | Unitized welded steel body |
| Manufacturing location | Chicago, Illinois, United States |
| Key competitors | Honda Pilot, Toyota Highlander, Nissan Pathfinder, Mazda CX-9, Chevrolet Traverse, GMC Acadia, Volkswagen Atlas, Hyundai Palisade, Kia Telluride, Dodge Durango, Subaru Ascent |
Engines and Transmissions
| Engine | Aspiration | Horsepower | Torque | Transmission |
| --- | --- | --- | --- | --- |
| 2.3L EcoBoost I4 | Turbo | 300 | 310 | Ten-speed automatic |
| 3.3L Hybrid V6 | Atmospheric | 318 | N/A | Ten-speed automatic |
| 3.0L EcoBoost V6 | Twin-turbo | 365 | 380 | Ten-speed automatic |
| 3.0L EcoBoost V6 | Twin-turbo | 400 | 415 | Ten-speed automatic |
Gear Ratios
| Gear | Ratio (all engines) |
| --- | --- |
| First | 4.714 |
| Second | 2.997 |
| Third | 2.149 |
| Fourth | 1.769 |
| Fifth | 1.521 |
| Sixth | 1.275 |
| Seventh | 1 |
| Eighth | 0.853 |
| Ninth | 0.689 |
| 10th | 0.636 |
| Reverse | -4.885 |
Wheels and Tires
| Trim Level | Standard Wheel Size & Type | Standard Tire Size & Type | Optional Wheel Size & Type | Optional Tire Size & Type |
| --- | --- | --- | --- | --- |
| Base | 18-inch painted aluminum | 225/65R/18 | N/A | N/A |
| XLT | 18-inch five-spoke sparkle silver-painted aluminum | 255/65R/18 | 20-inch polished aluminum | 255/55R/20 |
| Limited | 20-inch polished aluminum | 255/55R/20 | 20-inch hand-polished aluminum | 255/55R/20 |
| ST | 20-inch machined aluminum | 255/55R/20 | 21-inch aluminum | 275/45R/21 |
| Platinum | 20-inch bright machined-face aluminum | 255*55R/20 | 21-inch premium aluminum | 275/45R/21 |
Brakes
| Location | Type |
| --- | --- |
| Front | Disc brakes with ABS (high performance on ST) |
| Rear | Disc brakes with ABS (high performance on ST) |
Dimensions
| Exterior Dimensions | Value (in inches) |
| --- | --- |
| Wheelbase | 119.1 |
| Total vehicle length | 199.3 |
| Total vehicle height | 69.8 |
| Width (including mirrors) | 89.9 |
| Front track | 66.9 |
| Rear track | 66.9 |
| Interior Dimensions | Value (in inches) |
| --- | --- |
| Head room (first row) | 38.9 |
| Head room (second row) | 38.2 |
| Head room (third row) | 38.9 |
| Leg room (first row) | 43 |
| Leg room (second row) | 39 |
| Leg room (third row) | 32.2 |
Capacities
| Capacities | Value |
| --- | --- |
| Seating capacity | 7 |
| Passenger volume | 152.7 cu-ft |
| Cargo volume behind 3rd row | 18.2 cu-ft |
| Cargo volume behind 2nd row | 47.9 cu-ft |
| Cargo volume behind 1st row | 87.8 cu-ft |
| Base curb weight (2.3L EcoBoost I4) | 4,345 lb |
| Base curb weight (3.3L hybrid V6) | 4,969 lb |
| Base curb weight (3.0L EcoBoost V6 - ST) | 4,701 lb |
| Base curb weight (3.0L EcoBoost V6 - Platinum) | 4,727 |
Towing Ratings
| Engine | Drive Wheels | Towing Rating |
| --- | --- | --- |
| 3.3L Hybrid V6* | RWD | 5,000 lb |
| 3.3L Hybrid V6* | AWD | 5,000 lb |
| 2.3L EcoBoost I4* | RWD | 5,300 lb |
| 2.3L EcoBoost I4* | AWD | 5,300 lb |
| 3.0L EcoBoost V6 (ST) | AWD | 5,600 lb |
| 3.0L EcoBoost V6 (Platinum) | AWD | 5,600 lb |
| *Requires Class III Trailer Tow Package | | |
Pricing
| Trim | Engine | Drive Wheels | Entry Price |
| --- | --- | --- | --- |
| XLT | 2.3L EcoBoost I4 | RWD | $36,675 |
| XLT | 2.3L EcoBoost I4 | AWD | $38,665 |
| Limited | 2.3L EcoBoost I4 | RWD | $48,120 |
| Limited | 2.3L EcoBoost I4 | AWD | $50,120 |
| Limited | 3.3L Hybrid V6 | RWD | $52,270 |
| Limited | 3.3L Hybrid V6 | AWD | $54,465 |
| ST | 3.0L EcoBoost V6 | AWD | $54,730 |
| Platinum | 3.0L EcoBoost V6 | AWD | $58,250 |
Photos