The Ford GT Alan Mann Heritage Edition is a special edition of Ford's second-generation exotic super car meant to honor Alan Mann Racing's 1966 Ford GT lightweight experimental prototypes.
History
In 1965-1966, Alan Mann Racing built two lightweight aluminum-bodied prototypes based on the Mk I GT40, one of which included the AM GT-1. Neither car won a title race, however, the lighter materials used in the prototypes became a key foundation for the body construction of Ford's Mk II GT40 – the car that would go on to win the 1966 Le Mans 24-hour endurance race.
It's worth noting that the Le Mans committee decided to run the heavier and more powerful 7.0-liter V8 race cars for the rest of the 1966 season, rather than the lighter versions designed by Alan Mann Racing. As a result, this decision culminated in a 1-2-3 podium sweep for The Blue Oval at the 1966 Le Mans.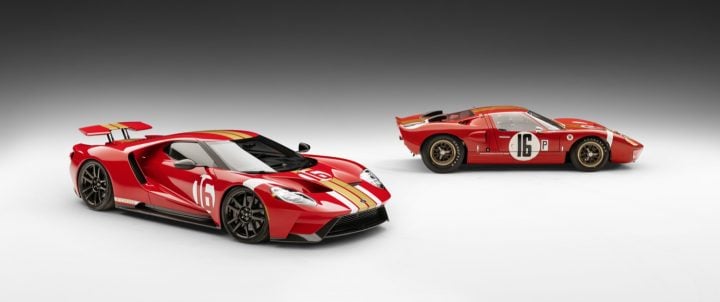 As such, the 2022 Ford GT Alan Mann Heritage Edition pays tribute to Alan Mann Racing's lightweight 1966 Ford GT experimental race cars by recognizing the historic impact that these prototype vehicles had in influencing and developing the Ford GT.
"Whether it's going like hell at the racetrack or out-innovating the competition, the Ford GT Alan Mann Heritage Edition honors the vehicles that helped lead Ford to its wins," said Mike Severson, Ford GT program manager. "With its red and gold livery, this Ford GT is inspired by Alan Mann Racing's contribution to our Le Mans-winning story."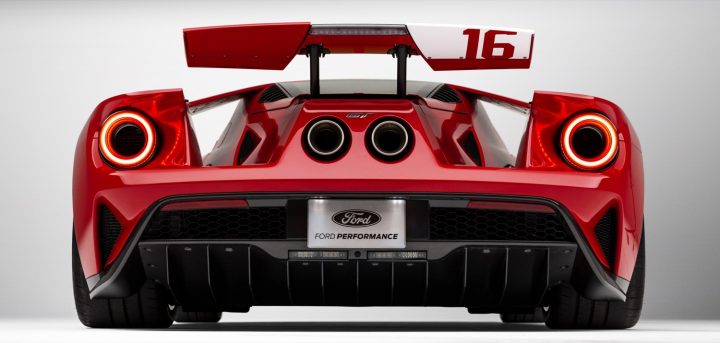 Features & Content
The 2022 Ford GT Alan Mann Heritage Edition incorporates several unique features inside and out.
Exterior
Unique Alan Mann red exterior paint with gold graphics, including:

Dual over-the-roof racing stripe
Signature accent stripes in the color Frozen White
Roundels displaying the number 16 on the doors, hood, and underside of the rear wing

20-inch wheels with lacquered Brembo brake calipers in black and red
Exposed gloss carbon fiber components including the front splitter, side sills, mirrors, engine louvers, and rear diffuser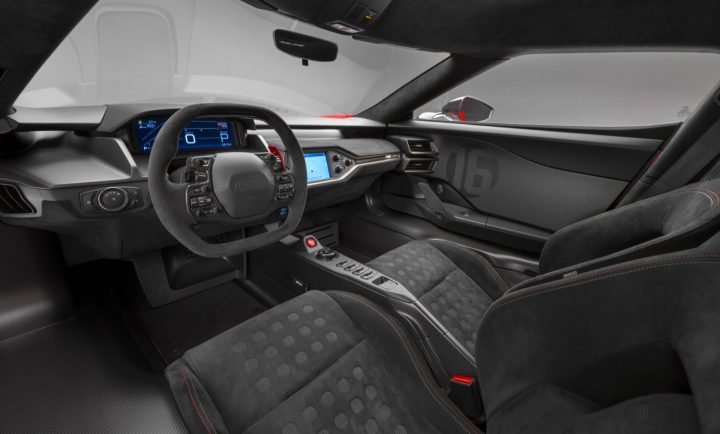 Interior
Carbon fiber door sills, console and registers
Ebony leather and Alcantara wrapped instrument panel
Ebony Alcantara wrapped pillars and headliner
Carbon fiber interior seats with Ebony Alcantara red and gold accent stitching
Embossed GT Logo on head restraints
Gold appliques set into the instrument panel
Matte carbon fiber door register bezels, seat X-brace, registers, door sill, and lower A-pillars
Ebony Alcantara wrapped steering wheel with black stitching
Dual-clutch paddle shifters finished in Alan Mann red
Reveal
The 2022 Ford GT Alan Mann Heritage Edition was introduced on February 9th, 2022 at the 2022 Chicago Auto Show.
Availability
The Ford GT Alan Mann Heritage Edition launched for the 2022 model year, with the very first deliveries beginning during the first quarter of 2022.
As is the case with all second-generation Ford GTs, only approved customers can purchase the new Ford GT Alan Mann Heritage Edition.
Production
Like all second-gen Ford GT units, the 2022 Ford GT Alan Mann Heritage Edition was produced at Multimatic's low-volume assembly facility located in Markham, Ontario, Canada. The 3.5L EcoBoost V6 engine itself is built at the Ford Romeo Engine Plant in Romeo, Michigan, USA.
Sales Numbers
See our running Ford GT sales tracker which includes figures for the 2022 Ford GT Alan Mann Heritage Edition.
Discussion
Discuss the 2022 Ford GT Alan Mann Heritage Edition in our Ford forum.
News
Follow our coverage of Ford GT news.