The 2021 Ford Mustang Mach-E is an all-electric five-door crossover. Its release marks a series of firsts for the storied sports car line. It's the first all-electric Mustang ever released. It's also the first crossover-style vehicle to wear a Mustang badge.
The move to an all-electric Mustang marks the first time in the car's 55-year history that it has been powered by anything other than gasoline. The Mach-E is said to deliver the best acceleration of any Mustang to date, and will offer a driving range that rivals vehicles from Tesla.
"At the first-ever Detroit Auto Show, Henry Ford said he was working on something that would strike like forked lightning," said Bill Ford, FoMoCo executive chairman, before continuing on to say "That was the Model T. Today, the Ford Motor Company is proud to unveil a car that strikes like forked lightning all over again. The all-new, all-electric, Mustang Mach-E."

Body Styles
The all-new 2021 Ford Mustang Mach-E is offered in one body style – a five-door hatchback-like crossover.
Trim Levels
The 2021 Mustang Mach-E will be offered in four regular trim levels and one special-edition model available exclusively at launch:
Select
Premium
California Route 1
GT
First Edition (limited edition launch-only trim level)

Exterior
The Mustang Mach-E's electric design means there's no need for a large engine bay up front. That gave Ford designers the ability to create a lower, longer hood with extra storage space underneath. Other exterior design highlights include:
Long, low hood with bulges that are similar to those in a gas-powered model
Hidden side door handles
Panoramic fixed-glass roof
Signature Mustang sequential rear turn signals
Blacked-out B-pillar and heavily sloped D-pillar that bring a fastback look to the Mach-E

Interior
The Mustang Mach-E's cockpit features a double-cowl instrument panel that harkens back to classic Mustang models. A floating, flip-up arm rest with storage space. The center stack is defined by a large, portrait-oriented touchscreen display that handles infotainment as well as HVAC functions.

An available panoramic fixed-glass roof with UV protection for temperature insulation.

Cargo
The Mach-E's interior was designed with space for passengers and cargo in mind. The front storage space, also known as a "frunk", offers up to 4.8 cubic-feet of storage and a drain plug to convert the space into a cooler. The rear trunk features 29 cubic-feet of cargo space, expanding to 59.6 cubic-feet of space with rear seats folded down. The gains in cargo and interior space are thanks to the under-body placement of the battery opens up more passenger and cargo space inside.
Technology
The Mach-E will be one of the most advanced vehicles that Ford has ever built. Technology highlights include:
A 10.2-inch digital display instead of a traditional gauge cluster
A 15.5-inch touchscreen will be standard
SYNC 4 infotainment system that actively learns driver habits and preferences to offer a better experience over time, such as suggesting directions to a gym or coffee shop that the owner regularly frequents
Over-the-air updates to continuously improve the vehicle's software and potentially its performance
Enhanced voice recognition
The ability to use a smartphone as a vehicle key
Connected navigation
Active Park Assist 2.0
Bang & Olufsen premium 10-speaker audio system
eAWD, which can apply torque independently to the front or rear axles
Performance
The Mach-E's all-electric powertrain makes it the quickest Mustang ever made. The crossover is the first vehicle that has been tested using Ford's racing simulator in North Carolina. Ford says the Mach-E GT will target 459 horsepower, 612 pound-feet of torque, and a 0-60 mph time in the mid-three second range.

Powertrain
When Ford announced the 2021 Mustang Mach-E, it listed a power number of 255 horsepower for the standard-range rear-wheel drive model. The automaker later confirmed that some models will make more power than originally expected.
2021 Ford Mustang Mach-E Powertrains

| Configuration | Horsepower | Torque (pound-feet) | Range (Miles) |
| --- | --- | --- | --- |
| RWD Standard Range | 266 | 417 | 230 |
| AWD Standard Range | 266 | 417 | 210 |
| RWD Extended Range | 290 | 306 | 300 |
| AWD Extended Range | 346 | 428 | 270 |
Batteries And Charging
With up to 300 miles of range, the Mach-E is good for all-day driving for most people. The batteries have been tested in temperatures as low as negative 40 degrees Fahrenheit, and are located in the crossover's floor between the two axles. They are housed in a waterproof case and are surrounded by crash absorption protection. Liquid cooling is utilized to optimize performance in warm temperatures.
Data shows that most EV owners do 80 percent of their charging at home, but there are plenty of times when charging on the go is the only option. To that end, Ford will offer Mustang Mach-E owners two programs to ease range anxiety. Owners will receive access to the FordPass Charging Network for fill-ups on the road, and a partnership with Amazon will help owners find a suitable installation partner for charging stations at home.
The FordPass Charging Network is the largest public charging network in the United States, and offers more than 12,000 charging stations with over 35,000 charge plugs. The Mach-E can be charged at up to 150KW, which can allow the rear-wheel drive extended-range model to add an average of 47 miles of range in just 10 minutes via a DC fast-charge station. The standard range Mach-E should be able to achieve a 10 to 80 percent charge in just 38 minutes.
Those charging times are only meaningful if the Mach-E can be charged at home. To helps its customers charge at home, Ford is teaming up with Amazon Home to provide the ability to locate a professional to install a Ford Connected Charging station, which is said to add 32 miles of range per charging hour via a 240V outlet. The Mach-E's navigation system will also help drivers identify public charging locations while on road trips.
Platform
The 2021 Ford Mustang Mach-E rides on the Ford GE1 platform. The platform was created specifically for the Mach-E, but it does trace its roots back to the Ford C2 platform.
Production
Production of the Mustang Mach-E will take place at the Ford Cuautitlan Plant in Cuautitlan, Mexico for all markets in which it will be available.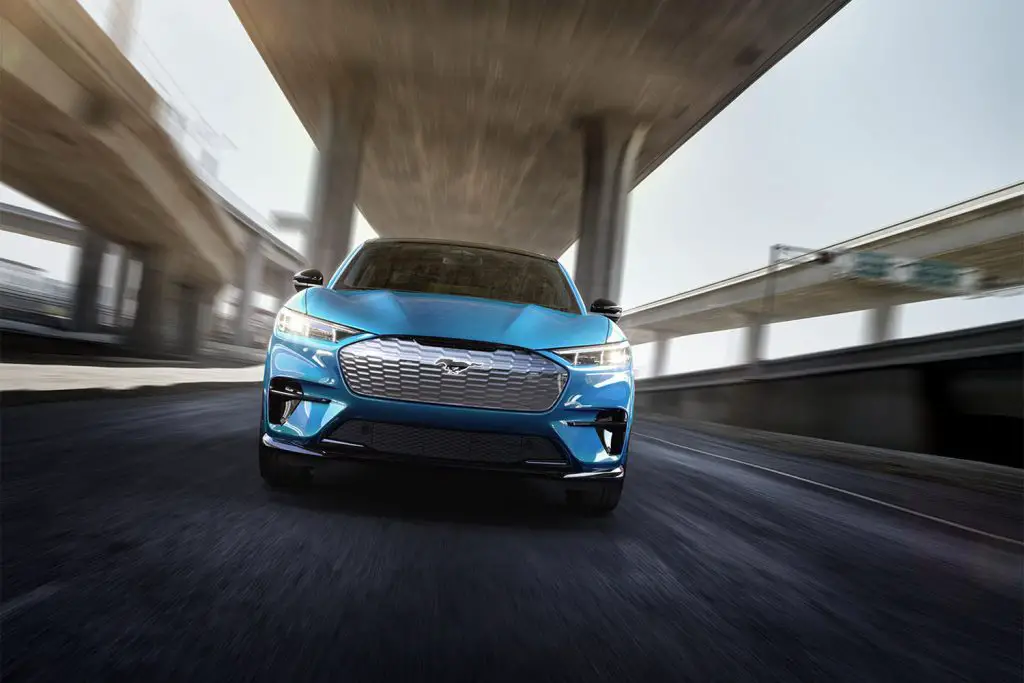 Price
The 2021 Mustang Mach-E starts at $44,995 (including $1,100 destination charge) for the Select RWD Standard Range model, which is the base configuration.
2021 Ford Mustang Mach-E Pricing

| Series Code | Model | Suggested Retail |
| --- | --- | --- |
| K1R | Select RWD Standard Range (100A) | $43,895 |
| K1S | Select AWD Standard Range (100A) | $46,595 |
| K2R | California Route 1 RWD Extended Range (200A) | $51,800 |
| K3R | Premium RWD Standard Range (300A) | $50,000 |
| K3S | Premium AWD Standard Range (300A) | $52,700 |
| K3S | Premium AWD for First Edition (requires 301A) | $52,700 |
| All Models | Destination and Delivery | $1,100 |
Availability
Deliveries of the 2021 Ford Mustang Mach-E are expected to begin in the United States in late 2020, while Europe should begin receiving units in early 2021.
Debut
The 2021 Mustang Mach-E was unveiled at a live event on November 17th, 2019 in Los Angeles, CA. The event was held with Ford employees and members of the media in attendance, and provided much-needed clarification on the Mach-E's name, which Ford referred to as the "Mustang-inspired EV" prior to the reveal.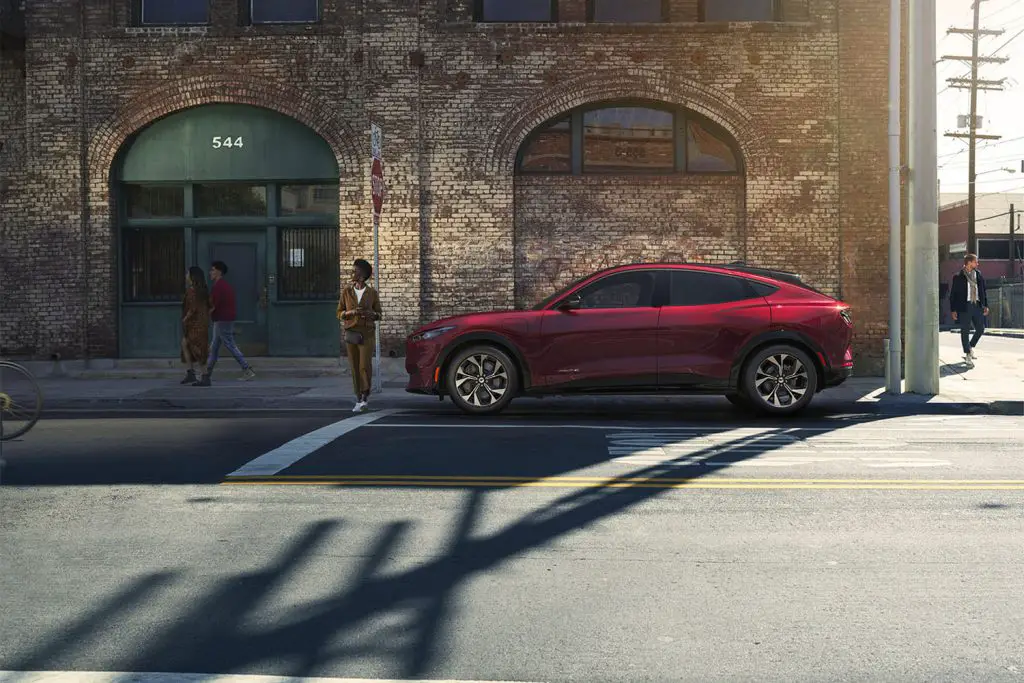 Specs
We'll update full specs when they become available.
Beyond 2021
We expect that the current, first-generation Ford Mustang Mach-E will remain in production for at least the 2021, 2022, 2023, 2024, 2025, 2026, and 2027 model years. A next-gen, future Mach-E will likely launch after the 2027 model year.
Discussion
Discuss the 2021 Ford Mustang Mach-E in our Ford forum.
Mustang Mach-E News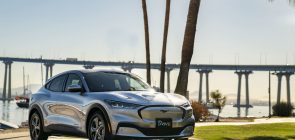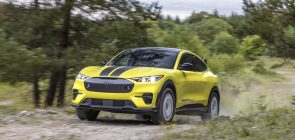 The Mach-E is currently eligible for only half the current credit.
Read More »