The 2019 Ford Ranger is a mid-size pickup truck sold by Ford Motor Company globally. The 2019 model year will mark several key stages for the Ranger, including:
The return of the Ranger to the United States and Canada after being discontinued in 2011
The launch of the Ranger Raptor in International markets (and potentially in the U.S. and Canada)
Various updates to the International-market Ranger
Market Return
The last Ford Ranger produced for North America was produced at Ford's Twin Cities Assembly plan in Minnesota on December 22nd, 2011. This model was first a compact and then a midsize pickup truck that spanned three generations across the 1983 – 2012 model years.
The first indicator that Ford was planning to bring the Ranger T6 to North America came in 2015, when Ford Motor Company and the United Auto Workers (UAW) union signed an agreement for Ford's Michigan Assembly Plant in Wayne, Michigan. As part of the agreement, the factory would undergo a $700 million retooling and see Ford replace production of the Ford Focus and Ford C-Max vehicles made at the plant at that time with the Ford Ranger and an SUV variant, the Ford Bronco.
Production of the Ranger would start in calendar year 2018 as a 2019 model, while production of the Bronco would start in 2019 as a 2020 model (see more on the 2020 Bronco).
Body Styles, Cab & Bed Configurations
In the U.S. and Canada, the 2019 Ford Ranger is offered as a mid-size pickup truck in either SuperCab or SuperCrew cab configurations. A two-door version will not be available, though such a cab is available in international markets.
An SUV variant of the 2019 Ranger will be available as the new 2020 Ford Bronco.
Internationally, the Ranger is available is available in the following cab configurations:
Single Cab Chassis Cab (without a bed)
Single Cab Pickup (two doors with a bed)
Super Cab (two front doors and two rear half-doors with a bed)
Double Cab (four doors with a bed), called SuperCrew in U.S.
Platform
The 2019 Ford Ranger rides on the Ford T6 platform shared across the following vehicles:
2011 Ford Ranger and newer (International markets, Ranger T6, 2011 – present)

2019 Ford Ranger Raptor (International markets, Ranger T6, 2019 – present)

2015 Ford Everest and newer (International markets, 2015 – present)

Ford Everest is sold as Ford Endeavour in India

Ford Ranger (USA and Canada, 2019 – present)
2020 Ford Bronco (USA and Canada, 2020 – present)
Adaptations For US/Canadian Markets
Besides making the adaptations to the Ranger's T6 platform for the U.S. and Canadian markets (see Platform section), Ford also made the following changes to the Ranger:
Addition of a new tailgate with locking feature
Addition of spoiler
Revised exterior design
Revised chassis
New powertrain
Powertrain
The 2019 Ford Ranger is powered by a proven 2.3-liter EcoBoost inline four-cylinder gasoline engine mated to the new Ford 10-speed automatic transmission, the only 10-speed automatic gearbox in the segment. Official power ratings have not yet been announced, but the engine makes 280 horsepower in the Ford Explorer and 310 horsepower in the Ford Mustang EcoBoost.
Ford's all-new 2.0L Bi-Turbo diesel engine is also expected to be offered, but has not yet been confirmed. In the International-market Ranger, the all-new engine is mated to Ford's 10-speed automatic transmission, with the powertrain combination being rated at 211 horsepower and 369 pound-feet of torque.
Both two-wheel-drive (sending power to the rear wheels) and four-wheel drive models will be available.
-2019 Ranger powertrain table
Primary Competitors
The 2019 Ranger competes against other mid-size mainstream pickup trucks, including:
Toyota Tacoma
Nissan Frontier
Standard Features
The 2019 Ranger includes the following standard features:
Automatic Emergency Braking
We will update this section once Ford provides more information.
Available Features
We will update this section once Ford provides this information.
Available Packages
At this point, Ford has announced that the 2019 Ranger will be available with the following packages:
Chrome appearance package
Sport appearance package
FX/FX4 Off-Road package, which includes:

Protective skid plates
Upgraded tires
Off-road-tuned shocks and suspension
Terrain Management System and Trail Control help navigate challenging conditions
We will update this section once we know more about the 2019 Ranger packages.
Trim Levels & Price
The 2019 Ranger will be offered in the following trim levels in the United States:
XL
XLT
Lariat
Ranger Raptor (expected, not confirmed for U.S. or Canada)
We expect the 2019 Ranger price to start in the low $20,000 range.
-Pricing table per trim level goes here –
Ranger Raptor
On February 7th, 2018, Ford announced the Ranger Raptor in Bangkok, Thailand for the international-market Ranger. Designed to combine Ford Performance DNA with Ranger's renowned toughness and engineering capability, the Ranger Raptor represents a new benchmark in midsize off-road pickup capability.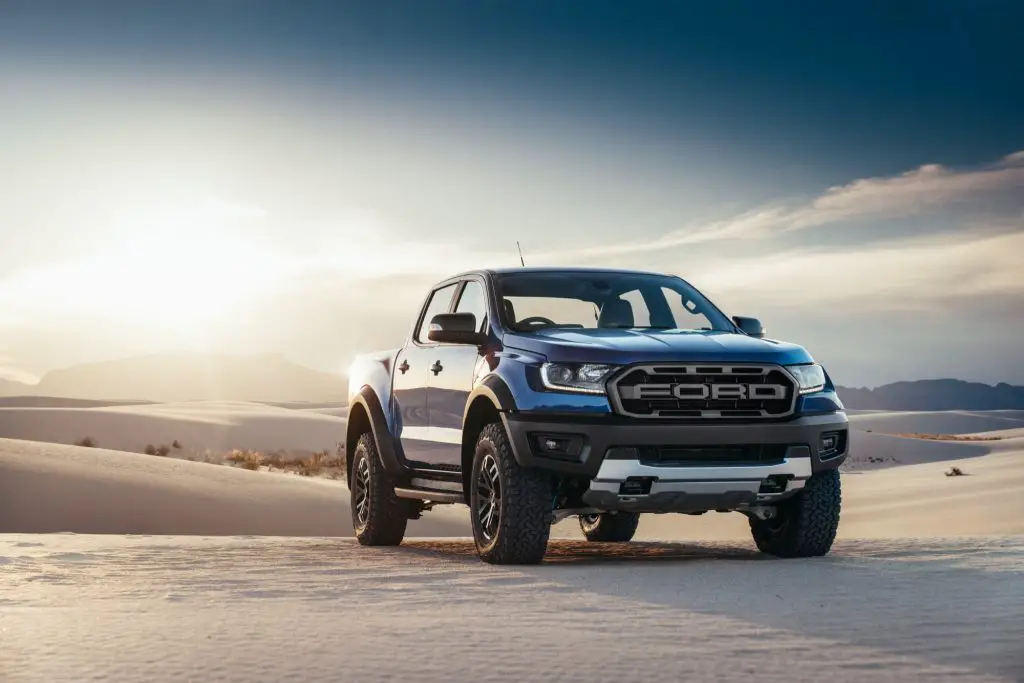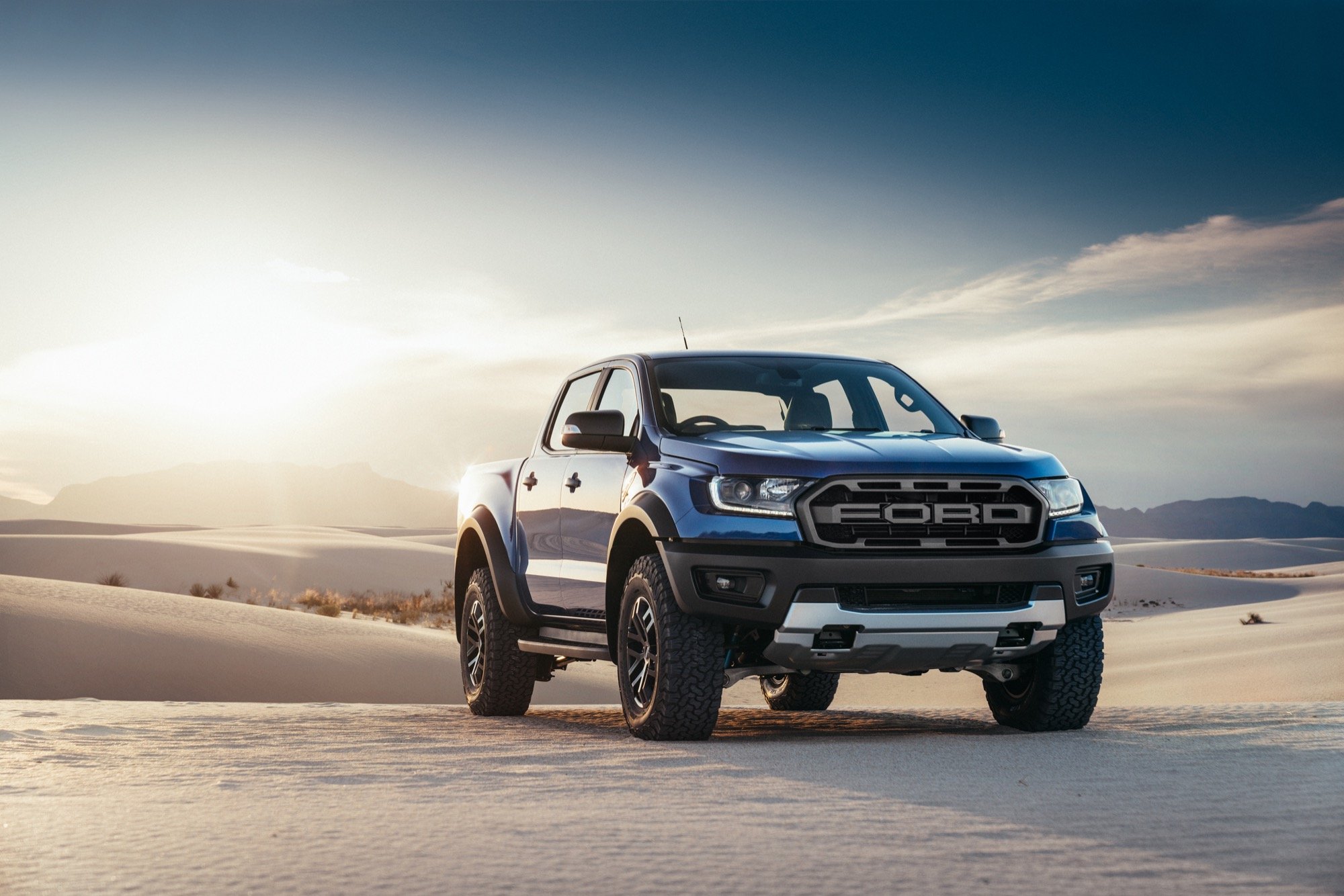 Highlights of the Ranger Raptor include:
Standard front and rear Fox Racing Shox shock absorbers to help travel at high speeds off-road
Increased ride height, wider track and improved approach and departure angles that ensure extreme off-road capability and stability
All-new Watt's linkage rear suspension with coilover rear springs that help ensure rear axle lateral stability off-road while also improving ride and handling
New powertrain combination of a 2.0-liter Bi-Turbo diesel engine and 10-speed transmission, offering smooth torque and power through independent turbos and closer gear ratios over a wider overall span
For says that the Ranger Raptor has been tested in the world's toughest conditions to deliver an unrivaled off-road package that astonishes and excites drivers.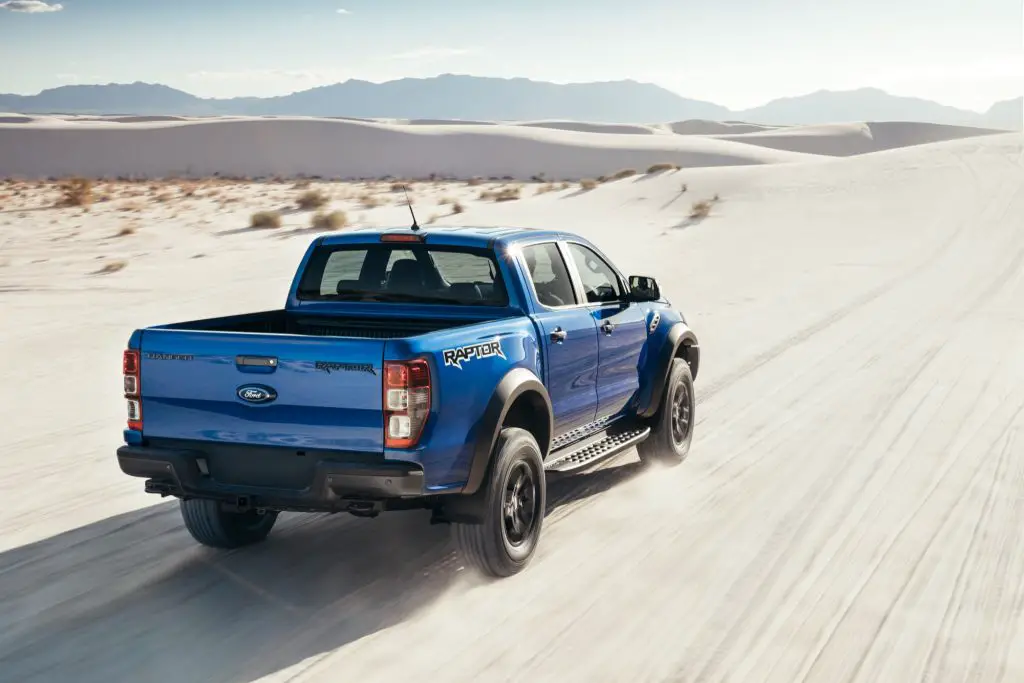 As of June 2018, Ford has yet to announce the Ranger Raptor for the U.S. and Canadian markets, but a spy video released on June 27th, 2018 shows a Ranger Raptor undergoing testing in Michigan in never-before-seen left-hand-drive. This serves as an unofficial confirmation that Ford is planning to bring the new Ranger Raptor Stateside.
Announcement
Ford officially introduced the 2019 Ranger on January 14th, 2018, at the 2018 North American International Auto Show in Detroit.
The international-market 2019 Ford Ranger Raptor was announced on February 7th, 2018 in Bangkok, Thailand.
Production
For North American markets, 2019 Ranger production begins in late 2018 at the Ford Michigan Assembly Plant in Wayne, Michigan, USA.
For markets outside North America, the 2019 Ranger is assembled at the Ford Thailand Manufacturing (FTM) in Rayong, Thailand.
Release Date & Availability
The new Ford Ranger goes on sale in late 2018 as a 2019 model year vehicle.
Beyond 2019
We expect that the new Ford Ranger will live on through the 2025 model year, and that an all-new, future Ford Ranger will launch on or after the 2026 model year.
Sales Numbers
See our running Ford Ranger sales tracker.
Discussion
Discuss the 2019 Ford Ranger in our Ford forum.
News
Follow our coverage of Ford Ranger news.
Specs
2019 Ford Ranger specs currently not available. We will update this section when we have them.