What better place to commemorate Talladega Nights than Talladega Superspeedway itself? That's exactly what Stewart-Haas Racing (SHR) will do this weekend at one of stock car racing's longest circuit, as two NASCAR Ford Mustangs will feature paint schemes inspired by the comedy film.
Chase Briscoe's No. 14 Mustang will be decked out in Old Spice livery, a callback to the fictional race car driven by Talladega Nights character Cal Naughton Jr. Ryan Preece, meanwhile, will drive the No. 41 Mustang with Wonder Bread logos, reminiscent of the movie's main character, Ricky Bobby, played by Will Ferrell.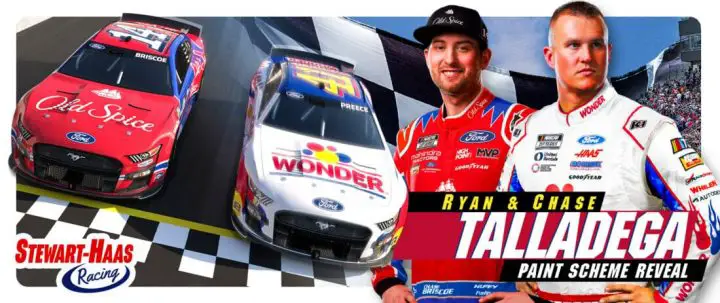 "This is an entertaining promotion that allows us to work with two innovative brands in Wonder Bread and Old Spice where we can stand out together amid a very busy fall sports schedule," said Brian McKinley, Chief Revenue Officer of SHR in a statement. "Talladega Nights is a cult classic and Wonder Bread and Old Spice were savvy enough to be on board with the movie from the very beginning. For our sport, it's the gift that keeps on giving, and it's given Stewart-Haas Racing a great platform to have some fun and engage with our fans."
Fans just might get the chance to see both race cars team up in the draft at Talladega – depending on where the SHR teammates qualify, of course. Either way, Preece and Briscoe are thrilled to pay homage to the film.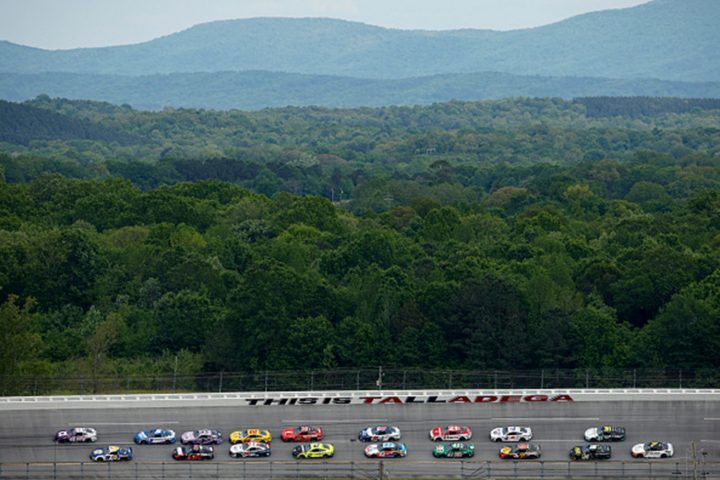 "Talladega Nights is one movie that most people have seen and laughed with, and these really cool paint schemes will bring back those memories," Preece said. "Getting to have my teammate, Chase Briscoe, in the Old Spice car makes it all come together. The movie remains relevant after all these years, and there's no better track than Talladega to work with your teammates. We're going to have a lot of fun this weekend and I hope we get the No. 41 Wonder Bread Ford Mustang in Victory Lane."
The green flag is scheduled to drop at Talladega at 2 p.m. ET on Sunday, October 1st, 2023.